Welcome back movie fans to another week of life without new movies. Theaters are still empty and this week we literally have no new movies, even on digital media. Its the cinematic desert I've never trod before and I'm just negotiating from one movie mirage to the next while we wait for some semblance of normalcy to begin returning to our daily lives. While we manage to stay some kind of sane, as Cinemasters we have vowed to bring you the best content we can in these times of uncertainty. So this is our second week of bringing you some films that might not be on your radar that you can enjoy to stave off boredom and hopefully catch a flick or two that you might just enjoy. I'll once again kick it off with Ron's picks and then my own. If you pay special attention to what Mr. Avis has brought to the table this week you might just detect a fun little theme. But I'll leave that to you to dig up.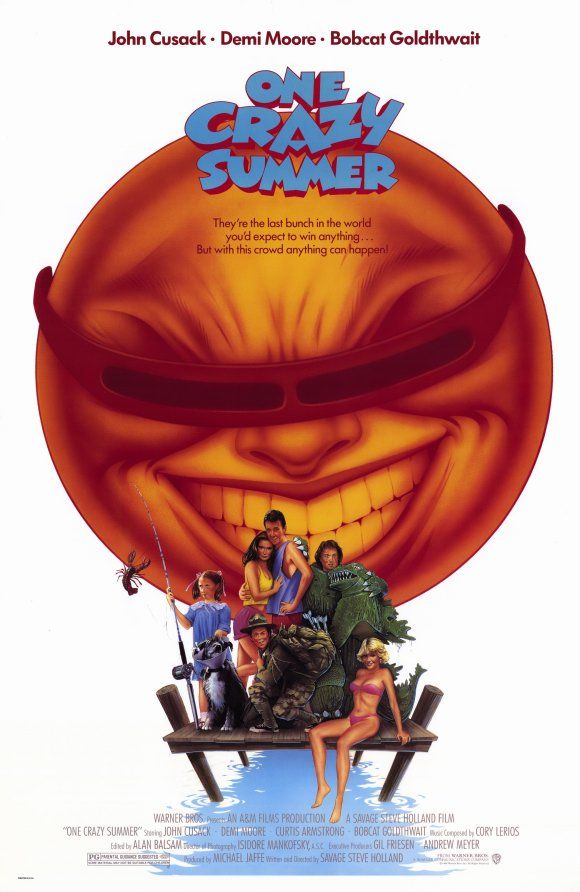 First off is "One Crazy Summer". When you add one part John Cusack and one part Joel Murray what do you get? If you said two Chicago sports fans you'd technically be right. But you'd also get the first two ingredients in a coming of age fun summer romp from 1986. Add in a dash of Demi Moore, some crazy twins and the classic family property at financial risk and you've got yourself the proper recipe for a classic 80's flick that will most definitely bring back memories of a bygone era. Before Cusack was the legendary boombox toting Lloyd Dobler he was the cartoonist with his eye on illustrating a great love story. Maybe this summer, Hoops McCann will do just that with a little help from Cassandra and one crazy thing after another. This classic 80's nugget of nostalgia is currently streaming on Starz. Otherwise you can catch it for $2.99 on all the typical digital rental spots.
Next up is a little bit of a surprise. While you'd think an entry into any franchise would certainly be a first or maybe a second, this pick takes us all the way to the 4th entry in the Police Academy catalog. Mahoney, Hightower and Tackleberry are back once again in "Police Academy 4: Citizens on Patrol". They've made it through their own training, had their first assignment and even gone back to the academy for a second round of cadets in action. This time the ordinary folk are taking to the streets to protect and serve. One more familiar face you'll catch in this installment is Captain Harris. He's back again to try and thwart these wayward police officers in all their shenanigan'd glory. If you keep your eyes peeled you'll also catch a young David Spade and the Bones Brigade in all their skateboarding glory. If you're bent on bringing yourself back up to speed before you dive headfirst into number 4, you're in luck because you can catch ALL the Police Academy movies right now on Netflix. If you're up for a free fall into this episode and you don't have streaming access, it's available for rent at $2.99 on Fandango, Microsoft and Redbox.
The final Ron Avis pick this week brings us front and center with a Bobcat Goldthwait classic. If the first two picks were elevated masterpieces of the comedy genre, this film would definitely be their…cousin. "Hot to Trot" rounds out our first trio of selections. Really all this movie needs as an intro is Bobcat and a talking horse. Oh and that talking horse just happens to be voiced by John Candy. And he also knows how to play the stock market. Not 80's enough for you yet? How about we add in some DABNEY COLEMAN! This is a movie that will make you feel like you smack dab in the glory of the 1980's again and that's really what a lot of these picks are about. Capturing that bygone era of magic and reliving the clothes and the music and everything that made that decade what it was. And Bobcat winning at the stock market with John Candy talking to him through a horse as they both go on a wild adventure with Dabney Coleman in the mix is just about the best way to do that. Oddly enough this one isn't streaming anywhere presently. So your dedication to entertaining this film will come through your $2.99 investment at all the usual rental locations.
That brings me to my picks. I'm not necessarily as steeped in classic 80's nostalgia. Consider me the ying to Ron's yang in that case. I will keep on point with the comedies, though I've only got one in my mix. If you're familiar with Christopher Guest and his crew of crack improvisers and you have an affinity for canines then I'm guessing you've deciphered my first selection. Its the turn of the millennium classic "Best in Show". Of all the Guest led productions, this one is my favorite. It focuses on a handful of dog show participants from several different walks of life. All the usual suspects are here for a Christopher Guest classic. There's Eugene Levy and Catherine O'Hara with their Norwich Terrier. Michael McKean and John Michael Higgins have a Shih Tzu. Parker Posey and Michael Hitchcock have a neurotic Weimaraner. Guest himself plays a delightful redneck with a bloodhound. And Jennifer Coolidge with aide of a professional trainer played by Jane Lynch has the Poodle to beat. The dialogue in this movie is phenomenal and the laughs range from witty and well timed, to goofy and deliberate. This one is only streaming on the Sundance channel and adds a dollar to the standard rental rate putting it at $3.99 for rent.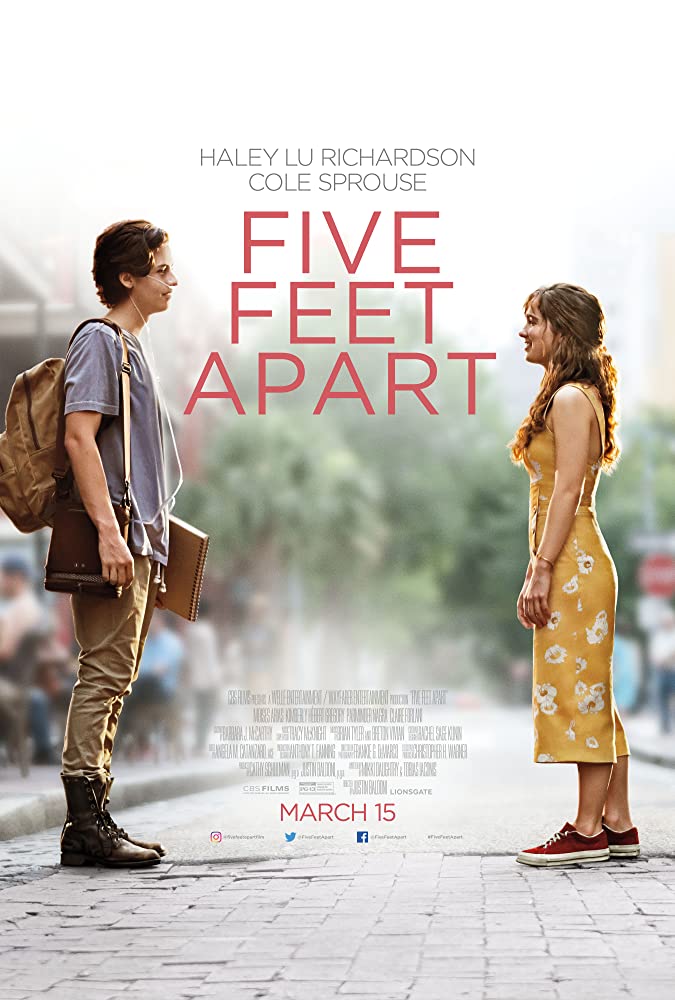 Second on my list is a movie from just last year. It was released in March and is about a handful of teenagers who unfortunately suffer from cystic fibrosis. Oddly enough, the title for this film is "Five Feet Apart". The film features Haley Lu Richardson and Cole Sprouse as opposite ends of the CF spectrum. Haley plays the girl who has conformed her whole life to the routine of being in and out of the hospital. She knows the nurses. She has her life charted out by all the regimens and treatments. She's bubbly and likable. Then Will (Sprouse) shows up. He's the "bad boy' who bucks the system in order to feel alive. The two fall for each other and start to move from their respective corners towards a middle ground. The problem is, they aren't supposed to be within 6 feet of each other or they run the risk of infecting one another in rather serious ways. Social distancing of the Shakespearean variety. There are laughs and there are definitely tears in this one. Its currently streaming on Showtime and Fubo and if you want to rent it, Amazon is going to be your best bet at $2.99.
Finally rounding out my picks is one of my favorite thrillers of the last 20 years. I don't know how many times I've watched it and it is always enjoyable. Its the 2007 David Fincher flick "Zodiac". I've always been intrigued by legacy of this true crime unsolved mystery. Fincher gathers Robert Downey Jr., Mark Ruffalo and Jake Gyllenhaal, among many other notable actors in this ensemble. The film is adapted from Robert Graysmith's accounting of the Zodiac Killer's escapades in the 1960's along the coast of California. Graysmith was a cartoonist at the San Francisco Chronicle during that time frame and obsessively followed the case and ultimately documented who he believed to be the true killer. There is much debate in the real world as to who really was the one responsible for all the Zodiac deaths but this film follows one particular path to unmasking the culprit. It's honestly just an incredibly made film that pairs real accounts with movie storytelling magic. If you're in the mood for a tense, edge of your seat kind of thrill then this one is it for you. Its streaming on Kanopy, Fubo and CBS through Amazon. Otherwise its the standard $2.99 drill across the board.
That's going to round out this week's staff picks. Hopefully there's a flick or two in here, maybe more, that strikes your fancy. It's definitely our intention to bring you reliable film recommendations you can actually use and enjoy. We know not everything is going to hit for everybody across the spectrum. We're just hoping that while we are all stuck inside and you've exhausted the standard battery of movies that a pick or two from a Cinemaster might make your movie watching enjoyment just a little more robust. We'll be back again with a fresh batch of picks next week so if there wasn't something for you here, just stop back by and we'll have brand new ones for you before you know it. As always I've been your Cinemaster to the North, Adam Peterson. I'll catch you on the flip side.