Hey there Coronapocalypse survivors. Are you starting to feel that edge just a little bit? Even getting out and going for walks and enjoying what sunshine we have is there's a bit of a something that just keeps gnawing at you? Yeah I'd say at this point that's pretty standard fare. You can crank the intensity up a couple notches if your career has been put on hold or displaced. You can crank it a few notches more if you've got to home school your children now. It's all just a little too nutty anymore so I think we need some kind of diversion from becoming John Carpenter's "In the Mouth of Madness" victims. Personally I'd rather not see an edgy, marked up Sam Neil feverishly smiling to himself as he walks down our COVID-19 ridden streets filled with the remnants of a world gone mad. So how do we mitigate all of that? Stuck inside. Working. Not Working. Children. No Children. We are on the brink. How do we start walking this back? Simple. Movies.
Clearly I'm being facetious. It's not my intent in these trying times to be flippant about the state of affairs for many people. Ron and I are fortunate to still be working away remotely while the Marshmallow industry keeps us employed from afar. But since our little slice of life is our running commentary on the cinematic world around us, we thought we'd try and change things up a little bit over the next few months with one of the segments on the website. I had dedicated myself to trying to cover new releases both on digital and DVD release on Tuesdays as well as theatrical releases on Fridays. Obviously not too soon after I tried to start doing that, everything in the known universe fell apart. So presently we find ourselves at the juncture of no more new movies. We've just pretty much run out of anything noteworthy coming out on home release for the next few months. Sure many of the digital titles will come out on physical home media but that's not really much of anything to write home about. They're not new. When Sonic the Hedgehog comes out on Blu-Ray in May, it will have been out on digital home video for over a month. That's old news. I'm not going to parade around what you've already seen when we can change it up and do something else interesting. So that's precisely what we are going to do with this section of entries on the website.
I initially wanted to call it either "Vincent's Picks" or "Gene's Picks" based on an episode of Seinfeld where Elaine is enamored with this mysterious video store clerk named Vincent whose film selections seemed to speak directly to her heart. Gene's picks were much more lighthearted and thus Elaine had no use for them. Kramer is quite enamored with Gene's immature sense of humor but when Vincent feels spurned by Elaine's betrayal after a rental of Weekend at Bernie's II due to Kramer's pressuring, Vincent and Elaine are on the outs. The joke ends up being the fact that Vincent is a nerdy 15 year old kid and we all laugh at the statutory nature of what would have been an Elaine/Vincent romance. In the end, this reference seemed far too much of a deep cut for it to make sense to casual observers of the website so I settled on a more general "Staff Picks". While the boom of the brick and mortar video store is all but over, save for the last remaining Blockbuster out in Oregon and a smattering of Family Video stores in more rural, small town areas, the idea of the staff pick is one many can relate to. As Ron and I have both worked in a video store, corporate and locally owned, we know the ways of the staff pick. For some people its a life saver when all the new releases are gone. For others its a way to get more familiar with movies they may have never seen before. Sometimes its just a welcoming call of a classic that you've not seen in forever. Whatever the case, its how we are going to give back during these uncertain times.
So each week in lieu of new releases, Ron and I are going to throw together a list of films we are dubbing our "Staff Picks". We may be able to get some recommendations from some of the other Cinemasters as well and I'll gladly notate where the picks come from, even if its just Ron and myself. I know this week all of mine are available on the primary streaming services and Ron's are streaming on some off the beaten path ones. With each pick I'll point you to where it's streaming if it is and give the rental price (typically about $2.99 on most platforms) in case its one that does tickle your fancy but isn't available to simply pull up on Netflix. Ultimately we are hoping that we can mix it up because after a while, everybody is probably going to exhaust just about everything they'd really prefer watching via the normal channels. Hopefully what we bring you may give you cause to broaden your horizons or just take a chance on something different, even if it costs a couple of bucks to check out. I know not everybody has the same kinds of tastes but hopefully with our overall love of most movies, you'll find the value in at least one or two of our picks. So with all that talk about this new pivot we have, let me get on to the picks. I'll give you Ron's first and then mine.
First up is the 1987 flick "Innerspace". This classic comedy features a trio of much younger versions of Dennis Quaid, Martin Short and Meg Ryan. In the film Dennis Quaid is shrunken down into a teeny tiny little guy inside what looks and feels like a spaceship. The plan goes awry when he is inadvertently injected into the body of an unsuspecting bystander, Martin Short. Through the magic of technology, Quaid is able to make audible contact with Short and the two form a duo bent on figuring out what went wrong and correcting everything. Oh and they need to do so before Quaid has to return to normal size or Short will essentially blow up. Toss in a delightful Meg Ryan, pre-plastic surgery, and you've got a great recipe for a fun 80's romp with action, adventure, excitement and laughs. This movie happens to be Ron's favorite performance of not only Dennis Quaid but also Martin short. A recommendation like that should definitely hold some serious water. Check this one out for the first time, revisit a classic or maybe just show it to the kids to let them know just how old you are. It's streaming on Cinemax, but if you're not one of the 4 people who subscribe to that one, Fandango will rent it to you the cheapest at $2.99.
Next up is "The Losers" from 2010. With Jeffrey Dean Morgan, Zoe Saldana, Idris Elba and Chris Evans in the cast I find it hard to believe I need to add anything else to the mix to tempt you with this one. The MCU opened its doors in 2008 with Iron Man and has been commanding the comic adaptation with incredible precision for over a decade now. Heck, most of the cast has found their way into a prominent MCU role as well. Those flicks dominate the box office as the well known Marvel characters. But every now and then you run into a comic book adaptation that people just aren't talking about. With an amazing cast, this one definitely finds itself in the underrated pile. Rife with double cross, payback and plenty of guns and explosions, The Losers is a great film that many people missed. Presently its streaming on a service called Indiebox, one I'm not familiar with at all. But it's also available for rent on many of the prominent venues like YouTube, Fandango and Redbox for $2.99.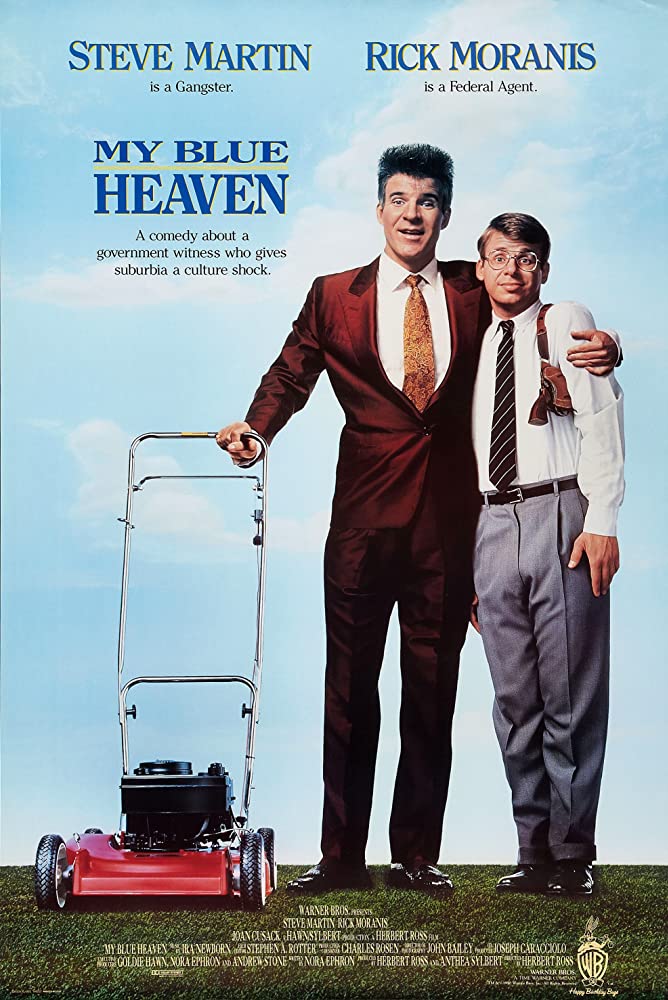 Lastly on Ron's Picks we have "My Blue Heaven". Oddly enough you might hear a little more about this one in an upcoming episode of Cinemaster of the Universe. But we aren't hesitating to still include it in this list as it really does warrant a watch. This film is the OTHER movie based on Henry Hill's life from 1990 and pairs perfectly with Scorsese's "Goodfellas" as a 1-2 punch double feature. Steve Martin plays Vinnie, the mobster fish out of water in a San Diego suburb. He's sequestered there via his FBI handler, played by Rick Moranis, until he can testify in a case back in New York. Sticking out like a sore thumb, Vinnie tries his best to acclimate to suburbia with little success. The film also features Joan Cusack as a foil to Martin's Vinnie and a love interest to Moranis's Barney Coopersmith. Rounding out the cast is a small but meaningful appearance by Carol Kane as Martin's perfect mate and you've got an instant classic. This one is streaming free on the Roku Channel or you can rent it for $2.99 just about everywhere you'd imagine you could.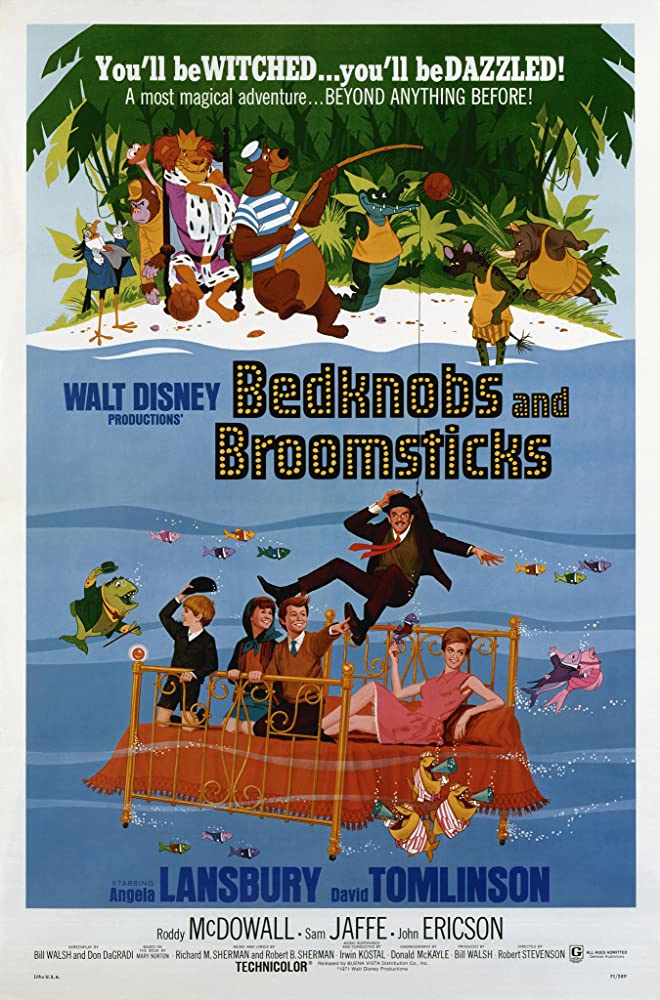 My first pick takes us all the way back to 1971 with Disney's "Bedknobs and Broomsticks". Featuring Angela Lansbury and David Tomlinson in the main starring roles, this film finds us in a countryside village in England during WWII. Lansbury plays an aspiring witch who ends up taking in three displaced children due to the war. Tomlinson plays the swindler of sorts who is inadvertently actually teaching Lansbury witchcraft in a by mail course. When the last lesson becomes cancelled, Lansbury and the children set off to find her wayward teacher and demand the final lesson. She bewitches a bedknob, a small round ball that screws on to the foot of an old meal bed frame, and armed with it they fly off to London to search out Tomlinson's con. From there its nothing but fun and folly as Lansbury, Tomlinson and all three children venture to different lands both real and make believe before they return back home to save everyone from the nasty Germans with one last bit of magic. This film was one of the first ones I happily digested again once Disney+ launched back in November. It is streaming exclusively there but it is also available for rent at the $2.99 price point on many of the usual suspect rental locations.
Next up is 1981's Dudley Moore classic "Arthur". While all of my movies in the future won't necessarily be free to stream, I picked this one in part because it was made specifically available in a portion of HBO's catalog due to the current state of things. Arthur is likely the most iconic role that Moore ever played. A rich, mostly drunken playboy, he lives a life unencumbered by much of anything. You'll often find him with a drink in hand and a joke at the ready. His comedy is just as intoxicating as his penchant for adult beverages and the entire film is a delight. His one obligation in life is to marry a woman who he truly does not love. But the marriage isn't about Arthur's true love or happiness. Its almost nothing more than another business transaction between the would be couple's parents. All of this gets upset when Arthur becomes enthralled with Liza Minelli's character, Linda Marola. Linda works hard for her money and even though a union would more than likely leave Arthur penniless, his love is enough for him in this fun 80's rom com. This one is available on Hulu, HBO (even if you don't have a subscription you can stream on their app), Direct TV and a couple others. Otherwise it's $2.99 just about everywhere you'd look to rent a digital movie.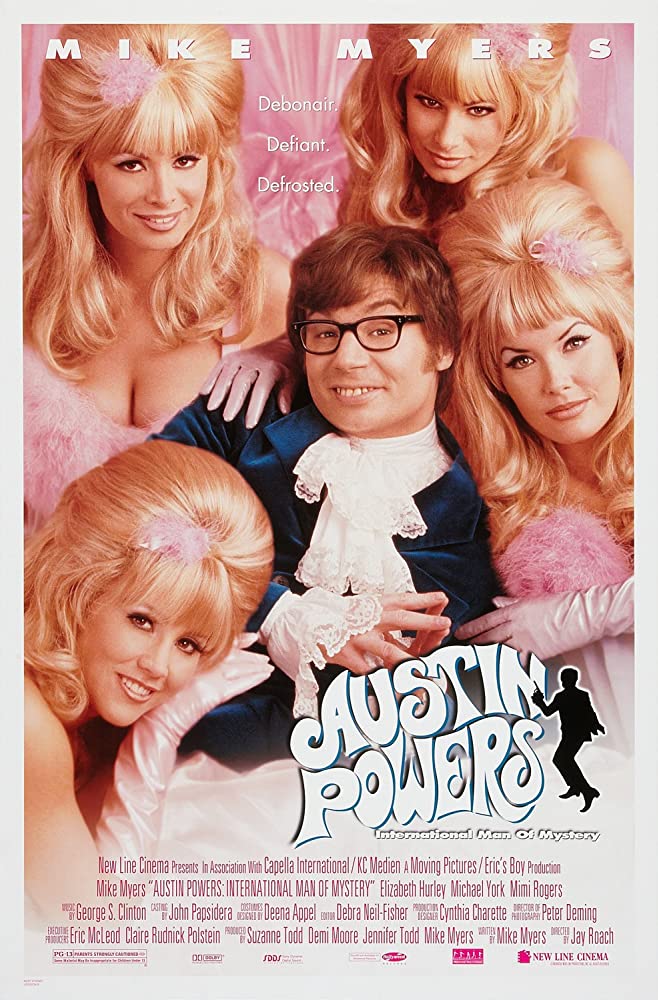 Skipping ahead one more decade is a comedy that I entertained once more myself just the other night. It's been a good number of years since I've watched 1997's "Austin Powers: International Man of Mystery" but it had me in stitches like no time had passed at all. I did try and catch the sequel the other night and it did not hold my attention nearly as well. But the original Mike Myers spoof of the British Spy genre of films that the 60's and 70's were fraught with is a comedy that definitely holds up. Sure its one of those movies that might not pass the woke test, but I found the comedy in it to be more than enough to sincerely enjoy myself for an hour and a half. Starring Mike Myers, Elizabeth Hurley, Mindy Sterling, Robert Wagner and a slew of other cameos and stars, this movie is more than good for its fair share of laughs. Some of it is dated in the references that are made but its just as quotable as it ever was and I'd say just about all the laughs really land more than 20 years after its initial run. You can check this one out for free on Netflix or DirecTV. Otherwise it will cost $3.99 everywhere else you look for it.
Finally in keeping with my decade jumping theme I landed on my final pick in 2007 with the Andy Samberg gem, "Hot Rod". This movie is very near and dear to the Cinemasters and I probably watch it 3-4 times at least each year. Its a different kind of fun but the laughs are jam packed in this tale of a wanna be stunt man Rod Kimble, played by Andy Samberg. Wanting to be seen as a real man in the eyes of his step father Frank, played by Ian McShane, he has to raise a very convenient $50K to get him a new heart when his current one goes bad. Armed with his team comprised of his step brother Kevin, played by fellow Lonely Islander Jorma Taccone, and best friends Dave, played by fellow SNL alum Bill Hader, and Rico, played by the hilarious Danny McBride, they set off to raise money for Frank's new heart. To add a secondary bit of drama to it all is Denise, played by the lovely Isla FIsher, a neighbor that Rod has a crush on. She joins the crew but is dating the cool guy aka total douche, Jonathan, played by Will Arnett. He stands in the way of Rod and Denise's beautiful union but will he continue to be Rod's foil or will true love win out? Can Rod make enough money for one big stunt to save Frank's life? All these questions and more will be answered in the offbeat comedy Hot Rod currently streaming on Amazon Prime, Netflix, Sony's Crackle and whatever "Popcornflix" is. Much like all the others, you can catch it just about anywhere digital rental is employed for $2.99.
So that's our first list of Staff Picks for you. I went with 7 this week just to give you a full week of flicks to check out. On the chance that you've not binge watched everything currently available on every streaming platform, we wanted to give some options for free entertainment before it was all going to cost you. In the weeks ahead we'll try and keep it balanced but ultimately we want to bring you quality flicks that we legitimately recommend to make your movie viewing more enjoyable and help ease off some of the pressure and tension from being locked up inside right now. If you check any of these out and they make your day, give you a laugh when you needed it or remind you of a childhood experience, feel free to check back in with us via the comments and let us know. We love to hear from people who enjoy our recommendations. That about wraps it up for me though. So until next time I've been your Cinemaster to the North, Adam Peterson and I'll catch you on the flip side.